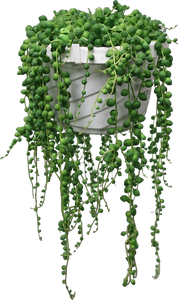 In a 6-inch pot 

Care Tips:

Light: Bright-direct to Bright-Indirect Light
Watering: Water every 7-10 days- they do not like their soil overly dry & prefer filtered-water. 
Propagation: Cuttings of stem

Things to know about this plant: 

Although this plant trials long, it goes from the soil and needs sunlight to hit it's soil in order for it to thrive. Be sure the top of this plant has ample amount of light. 
Please allow 1-7 Days before your plant arrives. You will receive a text & email notification the day before delivery.