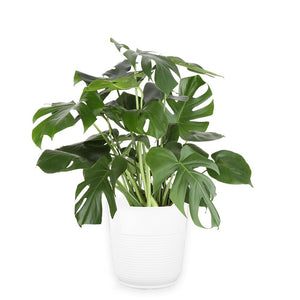 Monstera Deliciosa aka the Swiss Cheese Plant is a fast-growing plant that will transform before your eyes due to their unique leaf fenestrations.
In a 10-inch pot

Care Tips:

Light: Low to Medium Lighting, but will grow fenestrations quicker in brighter areas.
Watering: Water when soil is dry.
Propagation: Cuttings- below the node.

Fun Facts: Monstera Deliciosa are native to rainforests and are used to filtered light & humidity, although they are not fussy plants and can grow in many conditions. 
Please allow 1-7 Days before your plant arrives. You will receive a text & email notification the day before delivery. 
*Decorative pot not included*